Discussion Starter
·
#1
·
4pm yesterday I got a phone call from my hubby telling me to grab Spencer and meet him at the Naafi. So I did. Turns out we're being evacuated due to some idiot at a local factory putting nitric acid in with sodium hydroxide and it doing nasty stuff resulting in a toxic cloud of gas
I spent from about 4:30 till 10:00 standing outside the cook house with Spencer while hubby alternated between standing with us and trying to find out what the hell was going on. Wasn't much fun for us but Spencer was in his element. He got to play with some other dogs and then with some children and there were lots of adults who also said hello to him too. Course I had no food for him so I went begging to the chefs for any left overs. Spen ate better than we did last night, 3 sausages, some Pringles and part of a sandwich. Not ideal but in an emergency you take what you can get.
Eventually got put up in the officers mess which was basically like a big hotel room but without the tv, kettle, hair dryer and little shampoo and soap things. Double bed, 1 pillow. I'm not sure whether I was slightly hysterical at this point but for some reason I found that extremely funny. So last night I had a musty smelling blanket for a pillow and Spencer had my coat as a bed.
Gotta say, the army did a great job of getting everyone somewhere to stay for the night and in getting everybody fed, getting supplies of baby milk, nappies etc for those who need them and all that.
And Spencer...can't fault him. His loose leash walking went out the window but he behaved brilliantly in every other way. He quite happily spent 6 hours just standing around outside with an occasional walk up and down the road. He asked politely for attention by sitting in front of people. He kept a bunch of kids entertained with the fact he'd bump their hand with his nose and give paw in return for bits of biscuit. And when he did jump up at someone and they told him "down" he immediately dropped to his belly lol. Once in our room he was clearly a bit anxious and stuck to me like glue but once we got into bed he soon settled down on my coat. He did keep checking I was there through the night though.
Today there was an excursion into the danger zone for people to grab pets they'd left behind or feed and water them. Next door had nowhere to go with their dog so as we had a room that allowed dogs we said we'd have him as he and Spen got on when they met. Turns out Rupert is as big a thief as Spen and when the two weren't playing they spent their time stealing things. Including the duvet and the pillow
We only ended up having him for 3 hours before we were given the all clear to go home though.
I'm not sure what Rupert is and neither are they, he looks like a beagle/terrier of some sort mix. He's about beagle height, seems to be a nose on legs while out and is rather houndy in general but he has wire hair and fabulous eyebrows :001_wub: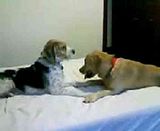 This was about 2 and a half hours in and both dogs were pretty knackered. As soon as we got Spen to lie down though Rupert would jump on him or tease him with a toy and it would all start again.
Anyway, we're home now and have ordered takeaway for dinner coz they've somehow stayed open all through this lol. Now I'm off to catch up on what I've missed in the last 24 hours!