Here are some snaps of my last couple of litters - and I do mean last, because I've decided not to breed them anymore. I feel it's pointless breeding animals if you're not going to keep some from every litter, and I have no more space so I'd have to sell all the pups from any more litters I might breed. So here they are, the last Stolenkiss Gerbil litters.
I had 4 litters in the last while, but the oldest of those 4 litters (Togo's first batch of pups) has yet to be photographed. That'll be done tonight. Until then, enjoy:
Mottle's first litter
Mottle's black boy: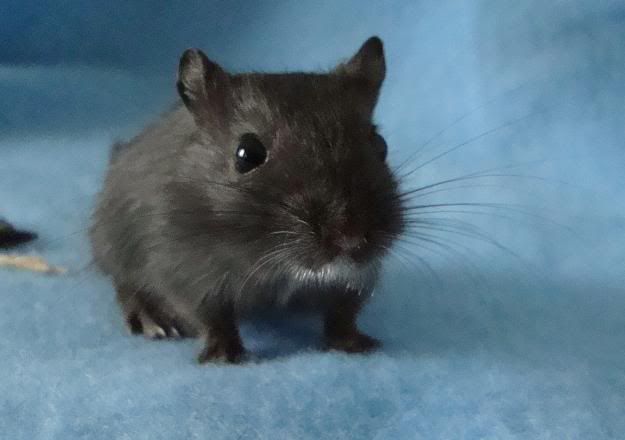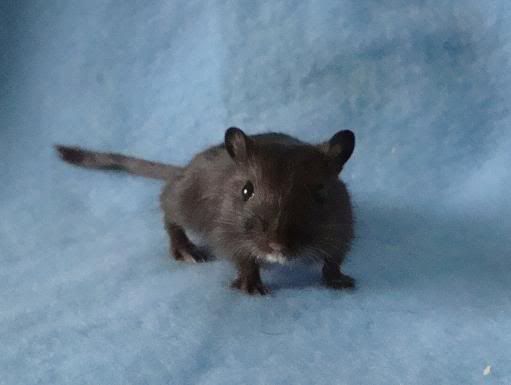 Mottle's (very uncooperative) black girl, this was the only half-decent photo out of about 25 I took:
Pick of the litter, my little white fella Stolenkiss LeBlanc, easily the nicest white pup I've ever bred and doesn't he know it!

Mottle's second litter
, all 5 of them. The black and mottled blacks are girls, the other 2 are boys:
And the two Mottle Jrs - one is looking to have much more white than the other but both have some degree of mottling:
Their pigment is about twice as dark as this today.
Togo's second litter at 11 days
The 2 boys, 1 agouti and 1 argente golden:
The 3 girls, 2 goldies and one black, watch what the brighter golden girl did: