Discussion Starter
·
#1
·
If you are interested in adopting Alby please read about our re homing process
Animals For Adoption - www.friendsoftheanimalsrct.org.uk
and complete a Pre Adoption form (link below) and one of our Adoption Coordinators will contact you for a chat
Dog pre-adoption form - www.friendsoftheanimalsrct.org.uk
Name: Alby
Age: 1 years
Breed: Shih Tzu
Can I live with Children: Older teens
Can I live with cats: Yes, confident cats
Can I live with other dogs:No
Fostered In: Nr Swindon, Wiltshire
Other Information
Alby is a sweet and funny boy with a quirky and adorable little character. He has lots of plus points. He loves cuddles and is very affectionate. He really enjoys his walks. Is funny and makes me and his previous fosterers laugh lots. He walks fantastically well on a lead. Has a great sit and good recall. He loves off lead time.
He's not had a good start in life which has left him with a few insecurities which comes out in resource guarding with people and dogs. He is insecure around other dogs. Nothing nasty in it but he will be a bit vocal about things so this needs some work in a positive way that will build up positive associations.
His resource guarding again needs work but he is very responsive to work and building a trusting bond will help with this. I after just two weeks can sit by his food bowl and hand feed him chicken inbetween him taking mouthfuls from his bowl and the same when I give him a long lasting treat. However because of these issues he is not suitable to go to a home with kids or other dogs. He does however seem happy enough around cats and has even snuggled up with them.
He will be much happier in a home without other dogs, he really is just lacking confidence around them and wants someone all to himself. Which given a pretty rubbish start is understandable.
While he is happy with cuddles and handling all over by someone he trusts and enjoys and nice gentle groom, the vet and groomer are not included in the list of people he trusts (I don't blame him), so this will need work gently too.
This will be added to as time goes on. This little lad already has a couple of fans :-*
Some pictures of Alby.
Coming
Laughing at my jokes.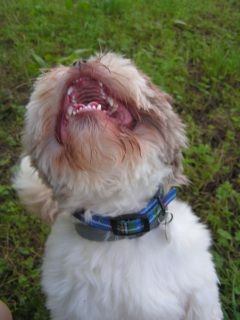 Looking cute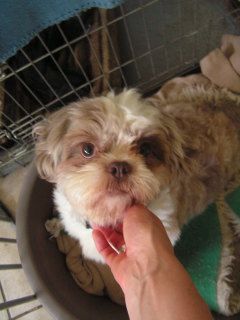 Playing
Any questions please ask.